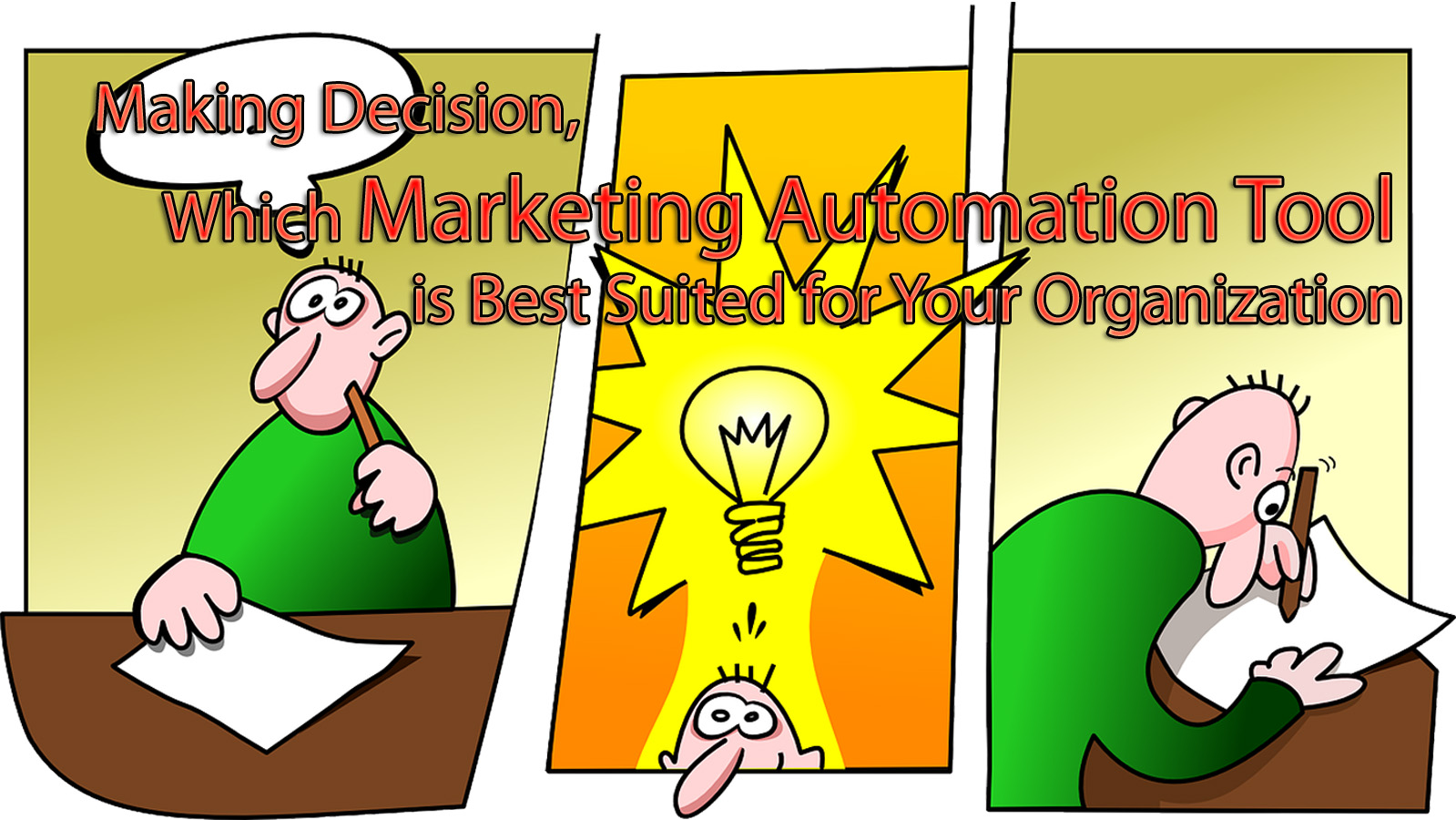 Making Decision, Which Marketing Automation Tool is Best Suited for Your Organization
Well, running an organization is not easy. At every step, you need to have correct strategies and when it comes to marketing automation you need to be sure to have productive results.
Do you need marketing automation?
Your marketing activities can be automated naturally through marketing automation. But for the best automation tools, you must be in bewilderment thinking about which features should be used? What are the best options available for your industry? Will it be worth investing in certain automation tools?
There are so many options that can confuse the business owners and make it difficult to make a decision. After all, you must be searching for the elements that are the must-have for your business to succeed. Trust me; spending time in searching among the abundant choices is always confusing until you have someone to explain the benefits and the requirement of a platform that can work best for your business.
In my career as a founder and marketer, I have experienced situations when organizations have faced difficulties in choosing the correct automation tools. And if you are also one of them pointing towards successful marketing then I must say this blog is much helpful. I will explain you some of the important factors to consider while deciding on the most suitable marketing automation tools.
The business characteristics
You business characteristics play an important role in deciding the automation tools for example the company size where the amount of data that needs to be processed in the system is determined based on the number of clients.
Also, if you are using a particular CRM platform then your marketing automation tool should impeccably integrate with it. In some businesses, you need only digital communication while in others there may be a requirement of offline methods. Think about how your customers like to communicate with you and choose an automation tool according to your customer's comfort.
Surely, as a service provider, I can understand investing in marketing automation tools is a big factor in terms of time and money that is why knowing your business characteristic is important to choose a set of well-suited automation tool.
What people value the most as a marketer or business owner is the ease of using a platform. A user-friendly interface keeps it simple to manage the system while on the other side a complicated tool makes it difficult to take all the different benefits offered by the automation tools. I believe in developing the automation tools should have the simplicity of use while their possibilities of enriching your business should remain the same.
The marketing automation system produces behavioral profiles and personalizes communication with different customer groups through recording and analyzing customer data. With such informational backup, it becomes easy to provide better customer support and technical services.
If you have the right automation tool for personalization your revenue can increase seamlessly along with the growth. But remember your automation platform should have the following features:
The possibility of more personalized messages increases with higher support to various communication channels. You can use the most applicable channels by dividing your communication between particular groups.
If you have the real-time analytics provided by the automation tool there can be immediate segmentation of the customers and based on the relevant information, they can receive the best-suited messages.
The increasing technologies 
There has been a great advancement in the marketing automation tools with technologies artificial intelligence and machine learning. It can benefit a company by increasing the analytic capabilities of the system and providing results that can be much time-consuming and unachievable through human work.
Custom reports capability
Custom Reports helps you to realize key insights into your business by watching data over a selected period of your time to ascertain what's trending. Create custom reports from that data to realize a deeper understanding of how your sales and marketing processes are impacting your business.
A business needs to know its success matrix to improve its various services. Therefore, a marketing automation tool should be able to track and measure your ROI (return on investment). If you have an increase in the revenue you should with no doubt know which marketing parameter gave you the most effective result and which one paid you the least outcome. A good automated tool can provide you with a customizable dashboard and give flexible reports of your success matrix.
Marketing automation can give you positive outcomes by reaching more prospects, generating qualified leads, accelerating campaigns, and displaying a return on sales and marketing investments.
Some of your doubts may be cleared while there must be some questions which you are still wondering to find the solution. If you need help in improving or implementing marketing automation tools, I have answers to all your questions? Let me make it simple for you by helping you solve all your difficulties with effective marketing automation tools and strategies that are preeminently suitable for your business.